THE PLACE
Publicity day was the 11th February 2016 from the US Capitols National Press Club, 529 14th Street, NW, 13th Floor, Washington, DC 20045. All video linked to LIGO's research principals at Caltech and MIT. The media conference was hosted by the National Science Foundation (NSF), one of aLIGO's principal sponsors.
THE NSF
The Director of the NSF, astrophysicist Dr. France Córdova, warmly opened with a welcome address to all, acknowledging the LIGO, VIRGO and GEO scientific collaboration, principal partners Caltech and MIT and the major international contributor groups, The Max Plank Society, the UK Science and Technology Facilities Council and the Australian Research Council. She then went on to comment that the NSF had taken a huge risk in supporting LIGO, its largest project commitment at the time, but nevertheless that was its function, to support science and to advance technologies and learning.
A brief video-introduction to gravitational-waves was then presented.
THE PEOPLE
Dr. Córdova then moved to the head table to join Prof. Gabriela González, Spokesperson, LIGO Scientific Collaboration, Professor of Physics and Astronomy, Louisiana State University; Prof. Rainer Weiss, Professor of Physics Emeritus, MIT; and Prof. Kip S. Thorne, The Feynman Professor of Theoretical Physics, Caltech.
GRAVITATIONAL WAVES
Executive director at Caltech of the Advanced Laser Interferometer Gravitational-Wave Observatories (aLIGO), experimental laser physicist Prof. David Reitze, took to the podium and smilingly announced "Ladies and gentlemen, we have detected gravitational waves. We did it!" to which there was tumultuous applause. He then concluded his beginning, after the noisy pause, with a modest "I am so pleased, to be able to tell you that."

He then explained that what LIGO had detected was the merger of two Black Holes that had occurred about 1.3 billion years ago. He then went on to stress the enormity of the technological achievement by stating "LIGO is the most precise measuring device ever built." While explaining the character of the received waveforms, he mooted one of the experiments achievements as "Exactly …what Einstein's theory of relativity would predict for …two Black Holes …inspiralling …merging together." Prof. Reitze remarked that it had taken months of careful analysis with the collected data to be assured that what was being announced today "…was a gravitational wave." then calmly adjusted the events focus from the now "This is not just about Gravitational Waves; that's the story today", then pointed to the future, with "what's really exciting is, what comes next?"
Drawing a reference from the history of the sciences he explained "400 years ago, Galileo turned a telescope to the sky and opened the era of modern observational astronomy." and continued with the conviction that "I think we are doing something [as] equally important today. We are opening a window on the universe, a window of gravitational astronomy."
A video of the inspiral of two black holes, demonstrating the gravitational waves produced, and how they are propagated through space-time to the LIGO detectors on Earth; was shown, with Prof. Reitze providing explanations.
While beginning his closing statements Prof. Reitze reiterated the staggering precision of the LIGO interferometers by comparing their sensitivity to the distance of the nearest star to the sun, Alpha Centauri as "…to the width of a human hair at the distance of 4.4 light-years." He commented on the audio promises of the experiment with "…we may hear things that we never expected," and asserted the possibilities of this new gravitational astronomical window with "…we may see things that we never saw before."
Prof. Reitze concluded with a lauded 20th Century analogy "This was …a scientific moon shot. We did it. We landed on the moon!" and in behest to the LIGO scientific collaborations, thanked the NSF, the US Congress and the US tax payers, for supporting such a risky project.
Next were presentations from the aLIGO team to deliver the gist of the science and some meaning to the projects discoveries.
HEAR THE SONG OF GRAVITY
Spokesperson, LIGO Scientific Collaboration, astrophysicist Prof. Gabriela González started by emphasising that the effort for the discovery was an international effort "…a World wide village" with the LIGO collaboration and the VERGO collaboration from Europe, with over 1,000 international members. She then briefly described the LIGO detectors at the NSF's Livingston (L1) and Hanford (H1) facilities; and noted that the planning specified two instruments, for comparison, to allow confidence in the verification of any received signals.

With an enthusiastic "So, this is it! This is what we saw." Prof. González displayed two waveforms of "Strain", the magnitude of the gravitational distortion of space-time, verses "time", the period over which the signal appeared; first received at L1, and then ~ 7 mille-seconds later by H1, in confirmation of the event. "This is it!" she explained "That's how we know we have gravitational waves." "But we know a lot more than that" she went on to explain, indicating the diagrams of oscillating waveforms with a rise in amplitude, together with a rise in frequency to a peak, and then the drop off.
"That's exactly the predictions that we know from solving Einstein's equations on computers, for the coalescence of two Black Holes; …into one." She then graphed the predicted matching relativistic overlay onto the received signals diagrams, and then exclaimed " …this is the fantastic news!"
Presenting a new overlay diagram of the two received waveforms, time shifted to match both signals, Prof. González went on to explain "From these waveforms, you can tell a lot more." From the frequencies within the signals, the masses of the initial black holes can be estimates as 29 and 36 Solar masses. From comparison with the relativity solutions, the resultant larger single black hole has a reduced total mass of 62 Solar masses. Where 3 Solar masses were converted to energy in the merger and emitted as gravitational waves; were Prof. González further explanations.
"We can tell even more than that" Prof. González expressed, saying that from the amplitude of the waveforms, the time of the event could be deduced as "1.3 billion years ago; when multi-cellular life, here on Earth, was just beginning to spread."
Prof. González then alerted the audience to the fact that all the relevant scientific information about this gravitational wave discovery could be found in a paper on-line; published this day in Physical Review Letters (DOI: 10.1103/PhysRevLett.116.061102) - (See below). Other papers on related scientific and technical details were also now available on-line and from other sources.
A coloured plot of the time vs frequency characteristics of the received gravitational waveforms was displayed by Prof. González, with the note that the amplitude gets brighter as time advances on the plot. She then emphasised the fact that these generated frequencies were within our auditory sensing range, the human hearing range.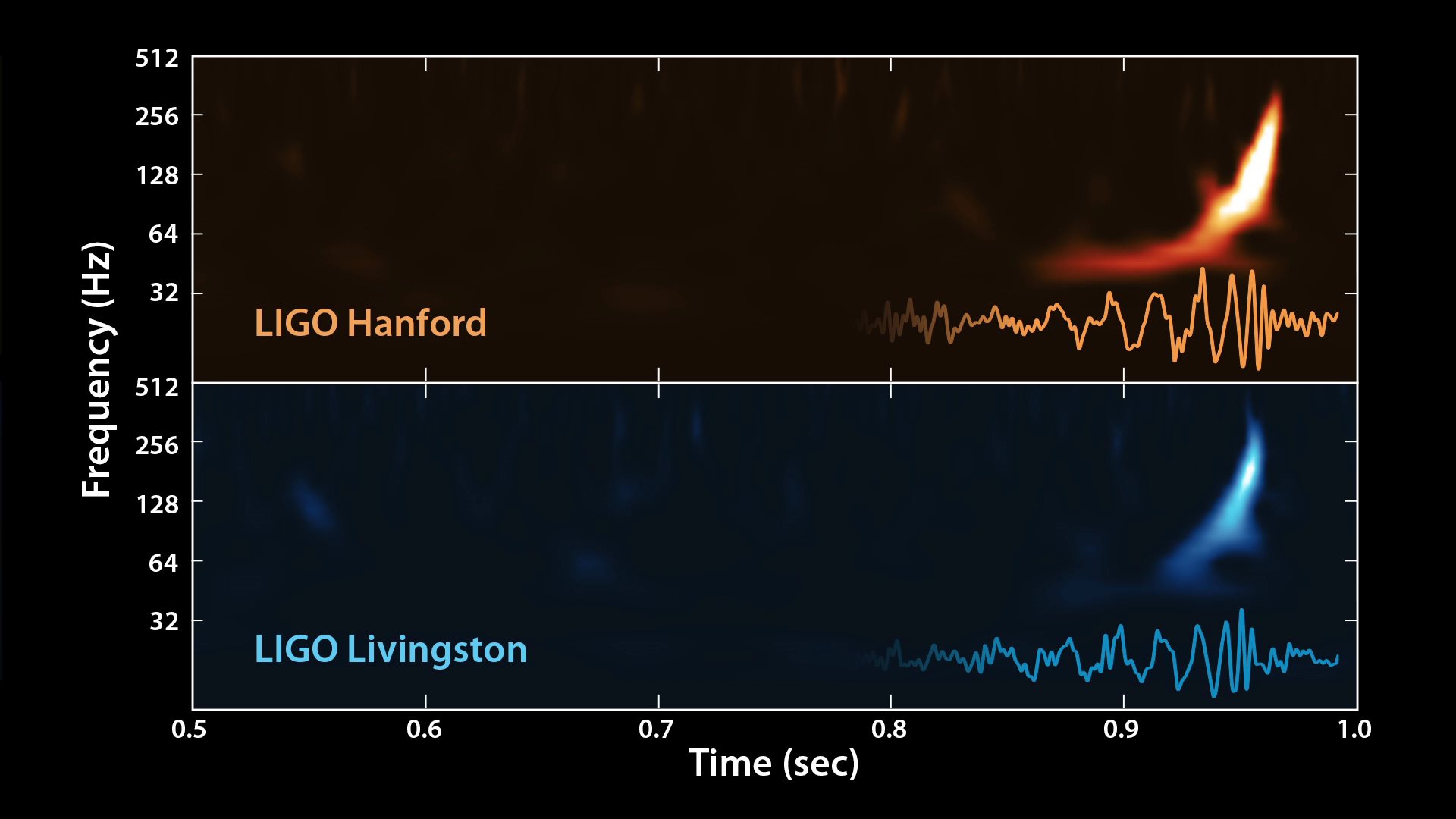 "We can hear gravitational waves, we can hear the universe. …That's one of the beautiful things about this, we are not only going to see the universe, we are going to be listening to it." she then looped a video interactive audio recording of a slowed down version of the gravitational waveform for the audience to observe and hear "…do you hear that? The rumbling noise, then the chirp?" asked Prof. González, replaying the display with a restrained show of obvious excitement, then exclaimed "That's the chirp we've been looking for!. This is the signal we have measured."
"We can even tell more. Because we have two detectors, it's like having two ears." Prof. González drawing from the 'All-Sky' aspect of these GW telescopes, then displayed an image of the southern sky, with a graded probability plot of location overlaid onto the Magellanic cloud region of the MY galaxy. "Not very good" she conceded, "but this will get better" over time as the network of more GW telescopes came on-line. She then displayed a world map with the location of operating, under-construction and planned GW telescopes to explain. The two LIGO instruments at Livingston and Hanford, and the technology demonstrator GEO600 in Germany, were now functioning. VIRGO in Italy was expected to come on-line later this year, in mid 2016, "...so we will have three ears" she explained. The underground Japanese detector KAGRA (formerly the Large-scale Cryogenic Gravitational wave Telescope, LCGT) now under-construction, should be on-line some time in 2018. A LIGO India project awaited approval.

Wrapping up her presentation, Prof. González stated "This is just a beginning, We discovered gravitational waves. …from the merger of black holes. It's been a very long road, but this is just the beginning. This is the first of many (discoveries) to come" she predicted. With the present detectors and as more GW telescopes become operational, she beamed with gleeful enthusiasm "…we begin listening to the universe!" she concluded.

PRECISION TO EINSTIN'S LEGASY
co-Founder LIGO, experimental astrophysicist Prof. Rainer Weiss began his explanations from a historical perspective, with the reminder that, recently celebrated in Centenary, Einstein had first formulated the field equations for gravity in 1915. They was a complete departure from previous understandings about 'forces', to instead consider 'distortions' in space-time. An un-scaled diagram representing the 2D 'distortion' in space-time by the masses of the sun and earth was shown. In 1916 Einstein applied the field equations to finding a way for these 'distortions' to communicate the dynamics of movement, for which he described as gravitational waves, propagated in space-time at the speed of light. He elucidated that gravitational waves were 'strains' in space.
Prof. Weiss then demonstrated changes in space 'strain', by stretching a piece of green plastic netting, illustrating that it was this change in 'shape', as each node in the distorted netting showed, that represented the 'strain' change in space; that the LIGO instruments were attempting to measure. Prof. Weiss then alluded to the fact that whereas Einstein was a good experimenter; 100 years ago, astronomers had not as yet discovered massive objects compact enough, nor was the technology available advanced enough, for any experimental test that Einstein may have envisaged or designed, to have been workable. Einstein thus remained doubtful that gravitational waves were at all detectable. Prof. Weiss stressed that it has been the discovery and development over the past 100 years, of such things as black holes, neutron stars, and advanced technologies; that has allowed us these new discoveries.
Prof. Weiss then went on to express some idea of the finesse of the LIGO instrumentation. The enormously tiny measurements they make. He expressed this with "Start with (the measure of) a meter. Divide it by a million, three times over. …that's a thousandth the size of a nucleus." and if that wasn't enough of a head bender "So how do we do it?" he challenged. "We do it by timing light" he offered. He then went on to show an animation of the basic principles of a working Michelson interferometer; a principal component of LIGO; an instrument attuned to measure changes in the wavelength of monochromatic (Laser) light.
Prof. Weiss went on to explain that there were a lot of things necessary to make to reduce noise sources in the instruments, one of which was vibration from the earth. He then demonstrated with a hand-held pendulum, that represented the interferometers mirrors, how controlled lateral high frequency movements of its supporting structures could remove one aspect of the perturbating noise sources. A diagram of the mirrors actual suspension system was shown as example (However its intricate functions were not here explained any further).
Prof. Weiss continued by describing that there were very many other noise sources, as examples thermal and quantum noise, which had to be overcome. He then speculated that had all of this technology been available to Einstein in 1916, that Einstein himself would probably have designed LIGO. He qualified this by stating that Einstein was smart enough to do it, and then with witty conviction, threw a wry carrot at his good colleague Thorne with "He (Einstein) wasn't just a theorist!" which brought a peal of laughter from the high table.
In a masterful move to quench his jest, he turned the attentions onto Prof. Thorne by relating a story (Home) taken from the book Black Holes & Time Warps - Einstein's Outrageous Legacy, written by Thorne, in which intrepid explorers visit the event of the merger of a pair of 24 Solar-mass black holes. Taking up the story at the moment of the black hole merger, Prof. Weiss in good animation recalls "…and the universe gives a little burst, when that is over." pausing, then "That's all in that book, written in 19(9)3." he states, pointing a finger at Thorne. Then dramatically declares "And we actually have seen it!"

Prof. Weiss then called Prof. Thorne to his turn at the podium, with a warm gesture and the words "So, Kip."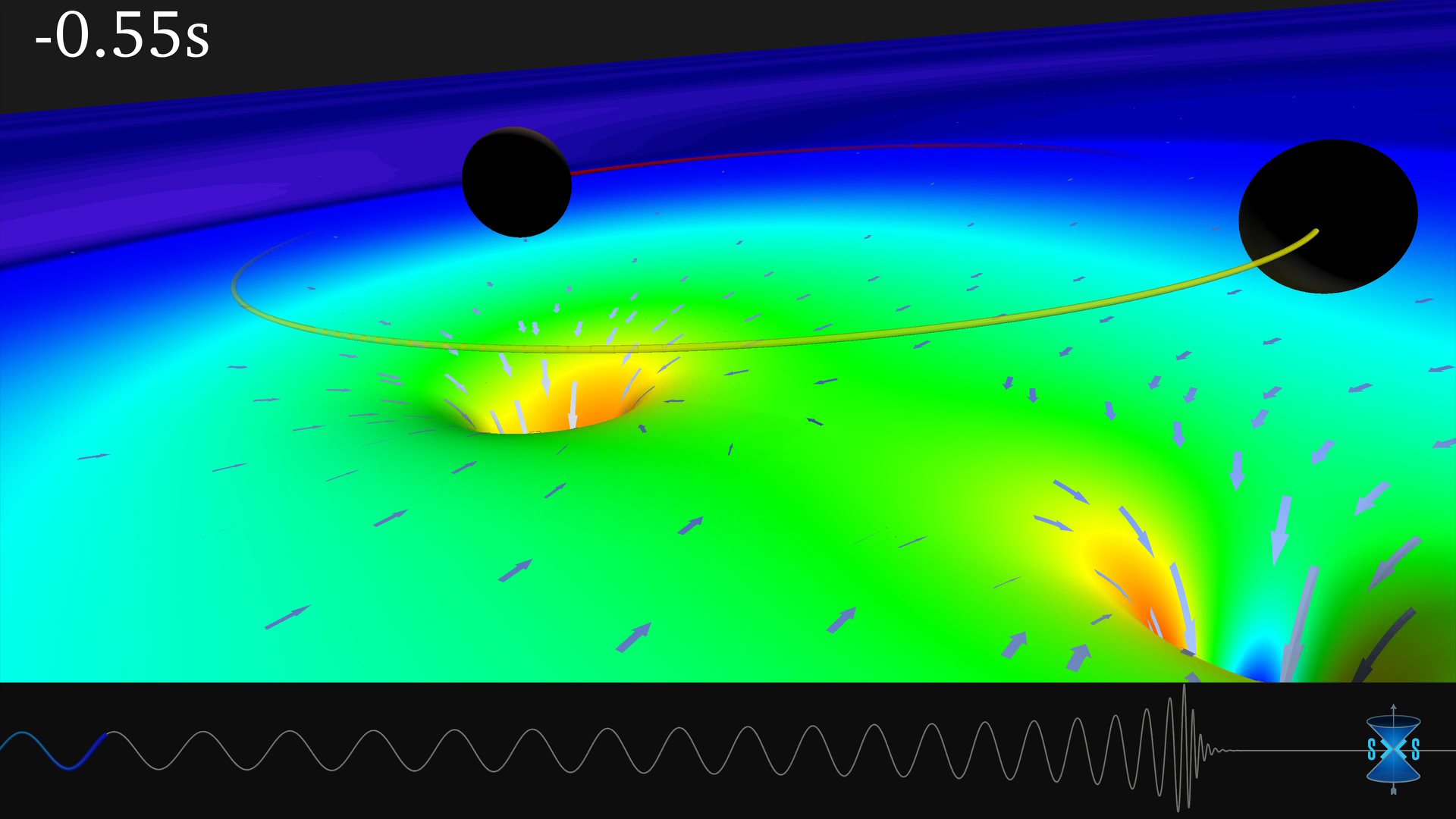 Real 3D ==> 2D space-time surface membrane simulation.
Relativistic Binary Black Hole merger computer simulation. Count-down time == before (rising chirp), to merger [freeze], and after (Ringdown).
By Simulating eXtreme Spacetimes (SXS) Project - LIGO
Colors depict the rate at which time flows; arrows in the normal direction of time.
In the green regions outside the holes, time flows at its normal rate. In the yellow regions, it is slowed by 20 or 30 percent.
In the red regions, time is hugely slowed. Far from the holes, the blue and purple bands depict outgoing gravitational waves.
Below picture is a chirp waveform that gets progressively covered in blue over time.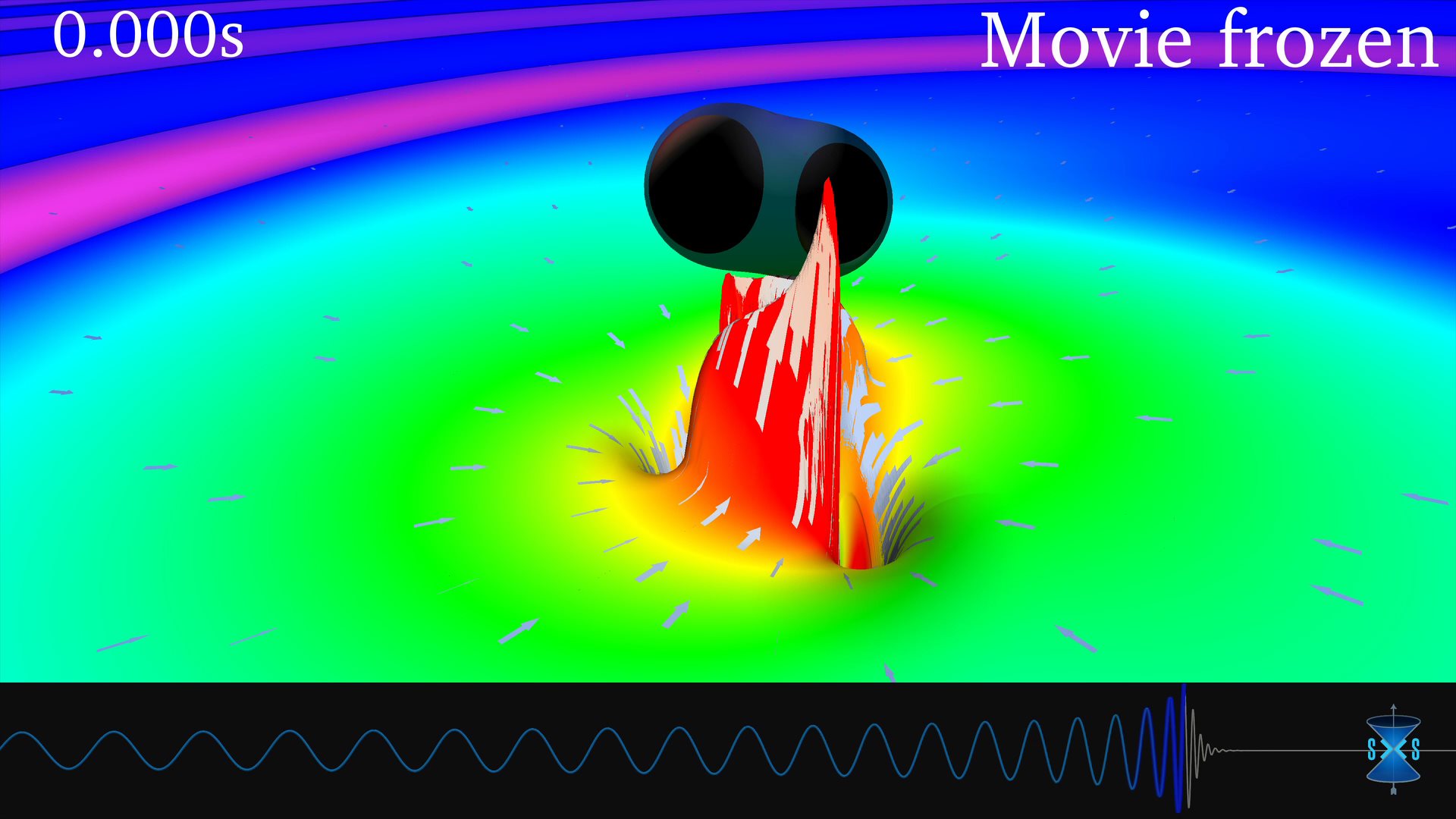 NEW WINDOW TO SURPRISES
co-Founder LIGO, theoretical relativist Prof. Kip S. Thorne began his segment with the reminder that Prof. Weiss has been a principal designer of the LIGO laser systems together with the absent co-Founder LIGO, Scottish experimental physicist, laser stabilisation, Prof. Ronald Drever, post Professor of Physics Emeritus, Caltech, who had sent well wishes to all, but regretted to be presently medically indisposed.
Prof. Thorne continued with a brief history of LIGO, citing past pioneer Joseph Weber (1919 - 2000) at the University of Maryland; and later laser research conducted at Caltech, MIT and in Scotland and Germany, as crucial contributions. He noted that the LIGO, who's results are displayed today, was upgraded to Advanced LIGO roughly between 2010 and 2015; and provided these spectacular results almost as soon as the improved instruments started. He then demonstrated a 2D relativistic computer simulation of a binary black hole (BBH) merger, illustrating the resulting distortions to space-time; and how they matched the signals received at aLIGO.
Prof. Thorne then speculated on other gravitational phenomenon that aLIGO could possibly detect; spinning neutron stars, BH and neutron star mergers, binary neutron star mergers, supernovae events and cosmic-string signatures from the early inflationary expansion period, just after the birth of the cosmos.
Prof. Thorne continued his speculations in comparing progressive discoveries made by astronomers as they moved through the spectrum provided by optical, radio and x-ray telescopes, in suggesting to expect "bigger surprises" from the new gravitational wave window. He concluded that gravitational wave telescopes would, in the future, improve their time domain sensitivity from mille-seconds to include, minutes, hours, days, years, decades and finally even billions of years; "its really remarkable that LIGO is such a fantastic beginning."

He then turned to Dr. Córdova, and on behalf of the LIGO collaboration, thanked the NSF, Dr. Córdova and her predecessors, for providing "A fabulous 40 year partnership" and ended his discourse with "…a great triumph. A whole new way to observe the universe."

AMAZING SCIENCE BY COLLABORATION
Dr. Córdova, Director of the NSF, returned to the podium to round off proceedings before question time by the media.
"Einstein would be beaming, wouldn't he." she started with a smile. Unabashedly moved by the historic significance of the proceedings, in which her student field of interest had been an early investment in what had been at the time, only dreamy speculation; to have had a hug from "…a faculty mentor …when a grad student at Caltech" set her to reminisce that both Kip Thorne and past pioneer Joseph Weber (whose wife she courteously acknowledged as present in the gathering) had filled her student head with imaginings by stories of black holes. "And look where we've come now!" she nodded "Amazing!"
Transforming herself back again into a functionary of the NSF; addressing the full membership of the LIGO collaboration, she noted "Mark this day as truly historic. I commend each of you." She moved on to commend past programme directors of the NSF for their steadfast support for the LIGO project, over the past 40 years; and called for a show of gratitude. To which there was strong applause in reply.
Dr. Córdova then delivered an impassioned summary of the entire project.
She acknowledged astronomer, astrophysicist and historian science and astronomy Dr. Virginia Trimble, as an invited guest, in witness to her late husband Joseph Weber's pioneering influences on the LIGO project; and noted that some of his instruments are now housed at the NSF LIGO facility at Hanford, Washington.
Dr. Córdova continued her summary speckled with words like, visionary, drive, persistence, commitment. She noted that this was not a single persons achievement, but that of many, and that its success achieved only through collaboration. That this applied as well at a national level, where the support with funding and scientific expertise, by other national participants, was a significant and necessary component. She then called on the invited respective representatives of the supportative national Science Councils of Germany, the UK and Australia, to please stand and be accounted. To which again, there was strong applause. She reminded everyone that all these national participants had all contributed directly to Advanced LIGO's success; and reminded the media to consult them as well, to get a full perspective of the discoveries presented.

Dr. Córdova then turned proceedings over to questions by the media.



The NSF LIGO 11th Feb 2016 anouncement at the National Press Club, Washington, DC, USA.
Gravitational Waves Detected 100 Years After Einstein's Prediction - Caltech Media Assets: HERE
All relevant videos to GW Discovery + About LIGO
UpDate: tobagojo - San Fernando, Trinidad, TT. 22nd October 2017.