:-)

Data Base
Research Archives
An Interview with Clive Bradley
The Steelbands of TT
An Interview with Clive Bradley
By Charlene Phillip

UWI ARCHIVE COPY - 2004

The Steelbands (Pan) of Trinidad and Tobago ARCHIVES Database

eEd - tobagojo@gmail.com

[x] Square brackets delineate and number the end of each page for reference purposes; or enclose [corrections/additions].
---
---
NOTE that begins as the first page of the interview document;
Incerted page penned by Clive Bradley in blue.
Stating:

April 14th 2004
To whom it may concern
I, CLIVE BRADLEY, hereby give
permission to U.W.I. to use the contents of
this interview for research purposes only.
(Signed) Clive Bradley.

Dr Remy, whilst making her marking assesment for the submitted paper
writes 'good idea.' in red.

---
Mrs Thelma Bradley-James (deceased)
From Charlene Phillip - Pg13


An Interview with Clive Bradley
By Charlene Phillip

One of the great musical geniuses in the steelband world. "A man who helped to shape the musical direction of Panorama." (Moses 1984)
CLIVE BRADLEY was born in Green Hill Village, Deigo Martin, in [early November] 1937 [d26/11/2005 – age 68]. He is the first of eight children born to Thelma Bradley James. His siblings Clevis, Lonnie, Ansum, Fenrick, Estelle, Victoria (UV), and Clayton, were darker than him because he had a different father and he felt unaccepted.
"They didn't accept me - they still don't - so I would always go off by myself (with his guitar) sometimes into the mountains for days. Even my step-father was distant towards me and he never introduced me as his step-son. He used to say I was his son-in-law."
As a promising child and teachers' pet of the Deigo Martin Boys R.C. school, he was chosen by the head teacher, Scipio Mark, for extra lessons; only the brightest [were so] fortunate.
At age 11 years old he sat the Fatima College entrance exam and wrote eight essays, instead of the instructed one, and won a scholarship. He described it as:
"The most stupidest thing I did in life which paid dividends."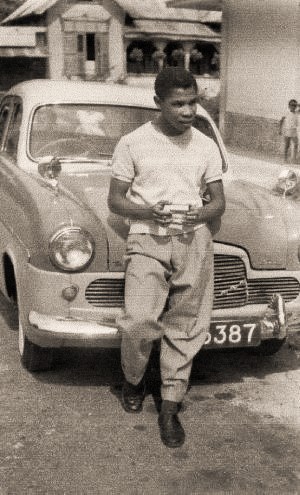 First car 1965
From Charlene Phillip - Pg10

Q. As one of the eight children growing up in Diego Martin, was there any music in the home? [1]
A. No there was no music in the home but there was music around the house, in that there was a guy, I can't remember his name, from Belmont who used to come and play with the band under the house."

While at Fatima, he became a member of the choir singing in church on Sundays; and on the radio. He was also a member of the St John's foot ball club. His interest in music began there at Fatima, when he taught himself to play the guitar and later the piano. After completing his education he later became a teacher at his Alma Mater; teaching general knowledge and working with the choir which participated in the music festival.
"My grandmother Za Za (Nozelta Mason) always believed that teaching was the most reputable profession."
Having taught at the primary school, he entered Teacher's Training College and was later trained as a lecturer, something uncommon for one who did not possess a Bachelors degree at that time.
Bradley befriended a panist called Sam and they regularly visited the "Roxy"; it was uncommon for a school teacher to go to places as such. While the bands took breaks, he would mess around with the piano. Soon thereafter, he was asked to replace Sam who had not returned from an errand; he was now a member of the Sonny Denner Band. Later he joined the Choy Aming Orchestra; where he attempted making music and learning the theory. [2]
"I taught myself to read from a hymn book and I know hymns right! I would write the notes - was the first time I actually wrote a song. I showed it to a friend (I had some experience) When he started to sing I knew I had done it right."
Wedding day 1966
From Charlene Phillip - Pg11

During that time Radio Trinidad would have musicians from all over the country come to join Sunday programmes. Bradley was present when Clarence Curvan arrived to play one morning, and the regular pianist was a 'no show'. He was asked to fill in.

His reputation as a key board player/arranger was developing; and he worked with Lord Kitchener and Lord Nelson. After a brief stay in Canada in 1960's, he got involved in 'Pan' when he arranged for The Mighty Sparrow's Mr Walker; for which he was paid TT$400.00.

Q. You arranged for Desperadoes and your first tune for them was Mr Walker; what was the experience like?
A. I know I had experience, but when I saw the amount of drums, I realized I didn't have experience. My experience with a real steelband was when I went into town for carnival - that was a big thing."

In 1966 he married his first wife Pearl, and they had one child, Karen; then he was Widowed in 1971. His second marriage to Ann produced two children, Kerwin and Kelly. Bradley has eight children by seven different women.

Q. Has any of your children shown any musical interest?
A. "No none of them have showed an interest." [3]
"During the Black Power uprising in 1970, we used to play at rum-punch parties. I got a lot of experience and a lot of exposure; and from that Esquires - now 'combo' came up."
Bradley talks about one of his admirers, and though they have only briefly worked together, he believes that Sparrow is a man of great musical talents. Most of what Bradley learnt is based on his listening skills.
Q. I remembered distinctly when you worked with Pandemonium in 1987. Could you recount this?
A. That year we beat Desperadoes. This young guy, one night when I was not there, worked with the band. When I returned, the timing was different, [and] time was upon us. I wanted to make the changes; especially for the final, but they could handle it.

Relaxing with the NEWSDAY
From Charlene Phillip - Pg12
While on stage now; I am tapping one beat, this guy in the middle, it wasn't going! The only time I found out, was after we left the stage. I knew we didn't win. I told him 'if we lose, it would be because of you'; and I would never arrange for Pandemonium again."

Q. You have done a lot more work with Pan. What would you say was the most difficult tune to arrange and time?
A. "The most difficult tune was Shadow's because he does not sing [it] straight. Unlike Kitchener, Shadow's every verse and chorus is different. For me, to arrange for a pan it means for me to pick one of those verses; and that was what I would deal with. Up to now I [4] don't know about this 'Cocoyea' thing; I don't know what the melody [is] like."

Q. In your interview with Knolly Moses you said you were "...never committed to one career path." Would you consider composing for other instruments, local plays or a T.V. series like West Wood Park?
A. "Anything I would consider..."

In his interview with C.P. of When Steel Talks out of New York, Bradley said that he has recently worked arranging for other tunes than 'Soca. "Most of the time you're employed to get a job done. I've done different types of music."

His experience in some 'combo' has served him in good stead. I[t] helped him to make [his] music different from other arrangers; who do not have that experience. He looks at what the sax, trombone, piano and trumpet are doing; and then transfers it to pan. [5]

Q. You have stated that Quincy Jones is one of your favourite arrangers. Do you see anyone locally that you would like to work with in the future?
A. "Definitely Jit!. Although I don't like collaborations because The Style might be different."

Q. What is your vision for pan and panmen for the year 2020?
A. "I would like to work with younger people to get rid of the 'dinosaurs' ...they are stuck in their old ways and create problems. I would like to see standardization for judging. A judge can't be effective if they have never played pan."

In his interview with C.P. of When Steel Talks, he said that he worked with teenagers because "...when you get those 'dinosaurs' you tend to have problems - they are set in their ways."

Q. What is next for Clive Bradley? An autobiography perhaps?
A. "Yes, I would say I would like to own a steelband, to manage a band. I would like to get somebody to pump some money to the band. That the band players learn to read music. A lot of players in bands don't know where the notes are; but they want to win Panorama. They don't know names of the notes, plenty of them want short cuts. When you worked with elder members you have to improvise, make it simple. Sometimes it takes longer to unlearn when it goes wrong." [6]

When asked by C.P. of When Steel Talks about his plans for the next few years, he responded by stating that he was in the middle of a draft for a book on arrangement for pan music, since there is no literature available.
Bradley's advise to young people is to 'take it from the bottom' and 'don't skip' - there are no short cuts to greatness. You have to learn from the first dot - knowing the rules of all the rungs of the ladder.

CLIVE BRADLEY THE GENIUS,
EVER CHALLENGING THE STEEL PAN WORLD.
HIS LEGACY IS RICH AND SHOULD BE
WRITTEN IN THE PAGES OF HISTORY.

[CP - 2004] [7]
---
Tunes arranged by Clive Bradley
| | | | | | |
| --- | --- | --- | --- | --- | --- |
| | TT Panorama | | | | |
| | Steelband | Rank | Year | Tune | Composer |
| | WITCo Desperadoes | 1st | 1970 | Margie | Kitchener |
| | WITCo Desperadoes | 1st | 1976 | Pan in Harmony | Kitchener |
| | WITCo Desperadoes | 1st | 1977 | Hasely Crawford | Kitchener |
| | WITCo Desperadoes | 1st | 1983 | Rebecca | Blue Boy |
| | Arcadian Nu Tones | 1st | 1998 | High Mas | David Rudder |
| | WITCo Desperadoes | 1st | 1999 | In My House | Oba |
| | WITCo Desperadoes | 1st | 2000 | Picture on My Wall | Oba |
| | Steelband | Rank | Year | Tune | Composer |
| | | | | | |
| | | | | | |
| | New York Panorama | | | | |
| | Steelband | Rank | Year | Tune | Composer |
| | Metro | 1st | 1982 | Jenny | Nelson |
| | Metro | 1st | 1987 | Say Say | Baron |
| | Metro | 1st | 1990 | Tell me why | Baron |
| | Metro | 1st | 1991 | This melody sweet | Shadow |
| | Metro | 1st | 1992 | Dingolay | Shadow |
| | Pantonic | 1st | 1999 | In My House | Oba |
| | Pantonic | 1st | 2001 | Stranger | Shadow |
| | Pantonic | 1st | 2002 | Ben Lion | Andre Tanker & 3 Canal |
| | Pantonic | 1st | 2003 | Trini To de Bone | David Rudder |
| s | Pantonic | 1st | 2005 | Action | Oba |
| | Steelband | Rank | Year | Tune | Composer |
| | | | | | |
| | TT Pan in the 21st Century | | | | |
| | Steelband | Rank | Year | Tune | Composer |
| s | WITCo Desperadoes | 1st | 2005 | Ordinary People | John Legend |
| | Steelband | Rank | Year | Tune | Composer |
| | | | | | |
| | | | | | |
| | In Contention | | | | |
| | TT Panorama | | | | |
| | Steelband | Rank | Year | Tune | Composer |
| s | WITCo Desperadoes | 2nd | 1978 | Pan in the 21st Century | Kitchener |
| s | WITCo Desperadoes | 2nd | 1980 | No Pan | Kitchener |
| s | WITCo Desperadoes | 3rd | 1982 | Party | Lord Nelson |
| s | FerTrin Pandemonium | 2nd | 1988 | Sailing | Mighty Trini |
| s | Nu Tones | 3rd | 1999 | Toco Band | Kitchener |
| s | WITCo Desperadoes | 3rd | 2001 | Yuh Looking for Horn | Shadow |
| s | WITCo Desperadoes | 7th | 2003 | Music in We Blood | Len Boogsie Sharpe |
| | WITCo Desperadoes | 4th | 2004 | Whap Cocoyea | Shadow |
| s | WITCo Desperadoes | 3rd | 2005 | Action | Oba |
| | Steelband | Rank | Year | Tune | Composer |
| | | | | | |
| | New York Panorama | | | | |
| | Steelband | Rank | Year | Tune | Composer |
| s | Pantonic | 2nd | 2000 | Picture on My Wall | Oba |
| s | Metro | 6th | 2000 | Nothing for You | * |
| s | Tasso | 12th | 2000 | Jump for Joy | * |
| s | Pantonic | 12th | 2004 | Bonnie & Clyde | Destra Garcia & Atlantik |
| s | D'Radoes | 4th | 2004 | Whap Cocoyea | Shadow |
| s | D'Radoes | 2nd | 2005 | Darling | Johnny King |
| | Steelband | Rank | Year | Tune | Composer |
s = 2005 Supplemental notes added to text (+ This list of Bradley's works is by no means complete) - eEd
[8]+[9]

---
BIBLIOGRAPHY

Sunday Express; F C 38, 1998, pg 19; Marcia Henville
Evening News; Thursday, 19th February, 1987, pg 15
Express; Wednesday, 18th February, 1987, pg 1; Keith Smith
Trinidad Guardian; Wednesday 26th December, 1984, pg 1B; Knolly Moses

Fenrick James [Personal interview] - Brother [to C. Bradley]; Green Hill, Deigo Martin

Trinidad Public Library; Garvin Blake

Internet:
Pantonic; New York, USA
http://www.pantonic.isgreat.net/

When Steel Talks - Pan on the Net; New York, USA
http://www.panonthenet.com/

[sub-directory
Clive Bradley - One of the most celebrated steelband arrangers of all time...
http://www.basementrecordings.com/x3498/kiki2.htm]
[14]
---
STUDENT:
CHARLENE PHILLIP

The University of The West Indies
Trinidad Campus - St Augustine
Faculty of Humanites & Education
School of Humanities
Centre for Creative & Festival Arts
Republic of Trinidad & Tobago, WI
© UWI 2004 Charlene Phillip


STUDENT ID:
99735532
COURSE:
MU 12A - ETHNOMUSICOLOGY I – Ethnomusicology and the Steelpan
LECTURER:
DR JEANNINE REMY
ASSIGNMENT:
AN INTERVIEW WITH AN ARRANGER
SUBMISSION DATE:
21st APRIL 2004
---
Compiled & Processed by Islands Research for:
The Steelbands (Pan) of Trinidad & Tobago
http://www.seetobago.org/trinidad/pan/archive/uwi2004/99735532_charlene-phillip/clive-bradley.htm

---
The Steelbands (Pan) of Trinidad & Tobago web-site dedicates this page to the family of Clive Bradly and to WITCo Desperadoes

---
:-)

An Interview with Clive Bradley

© 2005: tobagojo@gmail.com - 20051130 - 1m20071228 - 2m20140615
Historic Update: 06 December 2005;
Last Update: 29 November 2016 17:54:00 TT
Processed by: JGdeB - Islands Research
---